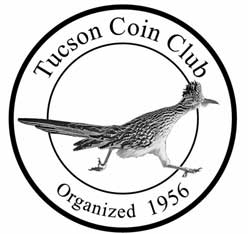 Arizona's Oldest Continuously Active Coin Club
---


American Numismatic Association
The ANA was formed to advance the knowledge of numismatics (the study of money) along educational, historical and scientific lines,
as well as enhance interest in the hobby.
United States Mint
Manufacturer of US circulating coins, Mint commemorative coins, and US Mint bullion coins. Numismatic information, online
catalog and a special kids zone.
Bureau of Engraving and Printing
The largest producer of security documents in the United States. The BEP prints billions of Federal Reserve Notes for delivery to the
Federal Reserve System each year.
Numismatic Guaranty Corporation
NGC is the official grading service of the American Numismatic Association and the Professional Numismatists Guild.
Professional Coin Grading Service
PCGS is an international coin and currency grading service.
h.i.p. Pocket Change
This United States Mint Web site was launched in July 1999. H.I.P. Pocket Change is a fun educational tool for students and teachers
that generates interest in coins, the United States Mint, and U.S. history.
"Learn about the Field of Numismatics"
"OptionsAnimal" Part of a large web site providing a world class curriculum devoted to empowering retail traders via a convenient
online format; and couple this education with proven expertise and support
Coin Collecting for Beginners
A very informative site for beginners and children interested in coin collection, currency and numismatics.

Home, hobbies, coin collecting
Did you know that coin collecting isnít just for adults? Many kids have started their own collections just by checking out the change they have in their
rooms or coins their parents may set down on the counter when they get home at the end of the day. Coin collecting can help you learn
more about math, geography, and history in a fun and unique way. So pull out that piggy bank and take a closer look at the coins you already have access to!
(Thank you Dakota Lowe for this link recommendation!)


---

---
Alex Perakis Coin & Currency
Alex Perakis, Owner, Operator
520-544-7778

American Coin & Collectibles, L.L.C.
Peter Spooner, Owner, Operator
520-297-3456
Catalina Coin Shop
Mike Brady, Owner
520-323-0067
Eagle Eye Rare Coins
Rick Snow, Owner, Operator
520-498-4615
Mini-Mint of Tucson
Christopher Ramsey, Owner, Operator
520-888-8122
Old Pueblo Coin Exchange Inc.
Ben Weinstein, Owner, Operator
520-881-7200

Tucson Coin & Autograph
Seth Wilson, Owner, Operator
520-219-4427

Glass Shoppe Inc.
Tony Tumonis, Owner, Operator
520-323-8811




---